---
Be your own boss
Purchasing a Houseproud Cleaning Franchise delivers a system for you to have a successful owner-operated business. Our tried and tested method is simple to follow, irrespective of your professional background. You are your own boss and decide the hours you work. All that is required is your dedication, willingness to learn and commitment to our standards for strong Customer Service and communication.
Greater Advertising and Marketing Opportunities

Greater Brand Awareness

Access to a broad range of products, services and training programs

Brand-new equipment and uniforms

And More!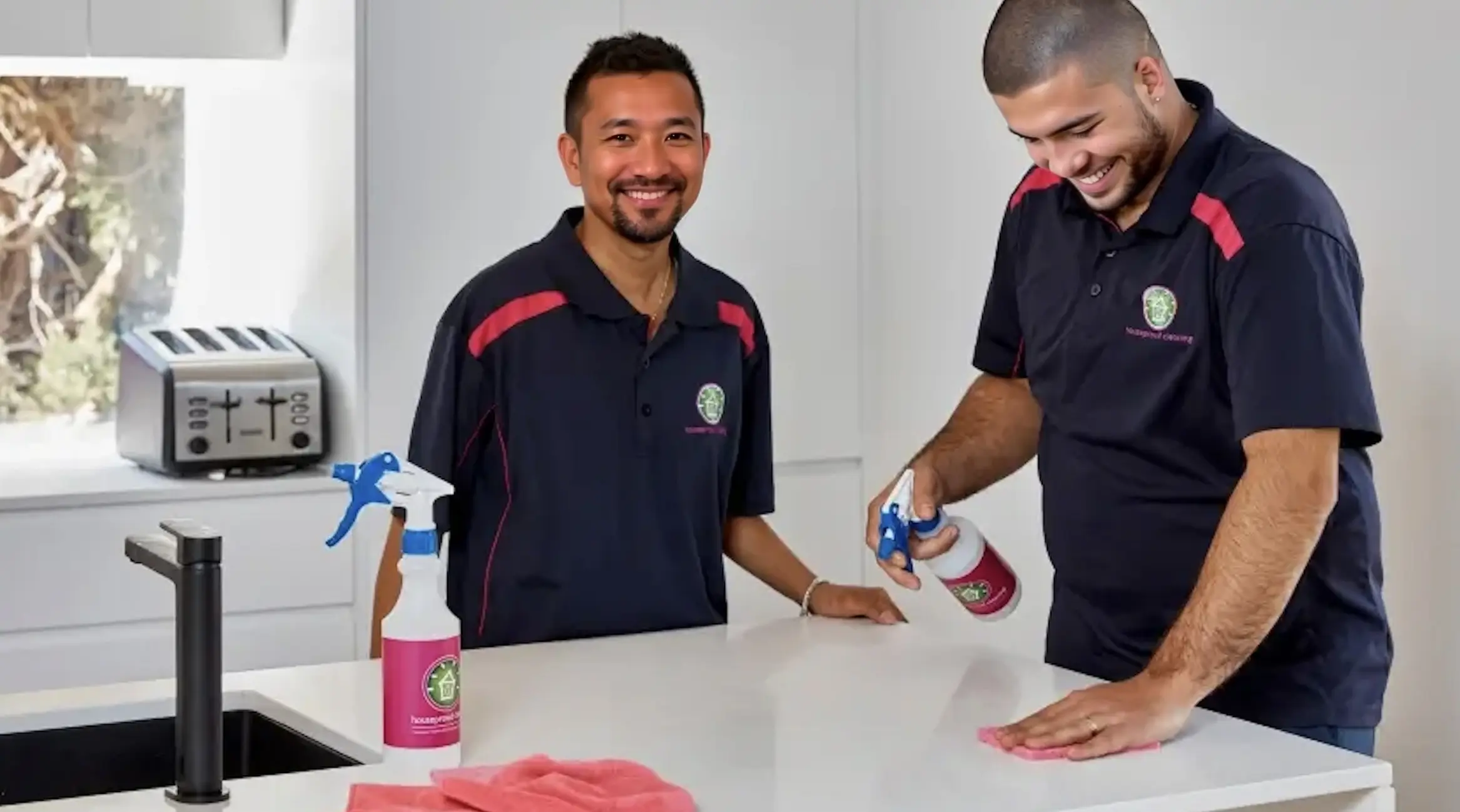 Why choose Houseproud Cleaning?
Established in 1999, Houseproud Cleaning has enjoyed a continual growth trajectory, boasting over 80 franchises servicing customers across 5 Australian capital and regional cities.
We have over 30,000 residential and commercial clients who trust and rely on the Houseproud brand with the high quality cleaning services we offer.
The Houseproud Franchise Advantage!
Strong, powerful brand with successful, unique franchise system

You are your own boss and choose your own hours

Full training, business, marketing and advertising support provided

Wide range of service, such as residential, commercial, real estate and strata agents

Exclusive territory rights

Monthly franchise fees are linked with your income, so it is a fair system for all.
How it works
We support you at every step of your franchise journey
Cleaning Franchise System
You own and operate your own business choosing your own hours and growing your business to suit you, whilst enjoying the backing of an established, proven marketing and management system.
Franchisee Training
Our well-structured 2-week training is a very detailed, comprehensive training program that ensures you are well equipped to operate your business successfully.
Clients provided
Houseproud will support you to build your customer base from when you begin training.
Call Centre Support
With an increasing number of franchisees that have come to Australia from overseas, Houseproud will assist franchisees communicating with clients when English is not their first language.
Marketing and Advertising
We are consistently promoting our Houseproud brand to ensure the success of our existing and new franchisees alike.
Exclusive Territory
You'll have your own exclusive territory for your franchise to help grow your franchise.
Frequently Asked Questions
Your earning potential depends on the level of hard work and commitment you put into your cleaning business. On average our franchisees earn $1500 per week by following the Houseproud Franchise system. However this amount changes for someone working part-time in the business to a business with over 5 contractors.
Your fees will be linked with income. While other organisations charge separate administration, marketing fees, our fees are combined into the one monthly fee as a percentage of your income.
Types of cleaning we can provide will include regular home cleaning, office cleaning, aged care cleaning, NDIS cleaning, Insurance cleaning, one off spring cleaning, moving house, window, oven cleaning.
Most certainly. Some of our most successful cleaning franchisees are husband and wife teams.
Yes, you will be the only Houseproud Cleaning franchisee in your contracted territory with the right of refusal.
On the commencement of your cleaning franchise we will provide a number of our branded polo shirts for you and your team. You will receive brand new cleaning equipment and cleaning products. When you need to re order more uniforms or cleaning products you can order through our existing suppliers.
Houseproud undertakes marketing initiatives on behalf of their franchisees, the majority of which is focused online such as Google ad words. Houseproud are constantly improving their cleaning services website to ensure maximum visibility in the cleaners/cleaning Google search results. In addition we will provide you with car branding, uniforms, business cards and Real Estate packs of printed materials for promoting your business.
Your franchise contract is for 5+5 years. There is a minimal contract renewal fee and you can sell your cleaning business at any time you want to, paying an assignment fee to head office.
Yes you can. When you prove you can manage and successfully run your first cleaning franchise you can purchase a second cleaning franchise to increase your earning potential.
Franchisee Testimonials

Mark Inwood
"Our sales grew at more than 50% per annum for the first 3 years and as we enter our 11th year, we are owners of two Houseproud Franchises, our sales are in excess of $850,000 per year across the two businesses. This has well and truly exceeded all my expectations and I cannot recommend more highly the business model that Houseproud Cleaning delivers."

Kuresh Khan
"By following the proven Houseproud system I was able to build my business to more than 45 regular customers within the first 6 months. After the first 3 months I was able to employ two staff and my sales figures then doubled over the following 3 months."

Habib Ataya
"The training and support from Head Office is amazing!!!!! When I started, they even took care of my schedule for the first 6 weeks which was great and I was able to focus on building my regular customer base."

Mark Inwood
"Our sales grew at more than 50% per annum for the first 3 years and as we enter our 11th year, we are owners of two Houseproud Franchises, our sales are in excess of $850,000 per year across the two businesses. This has well and truly exceeded all my expectations and I cannot recommend more highly the business model that Houseproud Cleaning delivers."

Kuresh Khan
"By following the proven Houseproud system I was able to build my business to more than 45 regular customers within the first 6 months. After the first 3 months I was able to employ two staff and my sales figures then doubled over the following 3 months."

Habib Ataya
"The training and support from Head Office is amazing!!!!! When I started, they even took care of my schedule for the first 6 weeks which was great and I was able to focus on building my regular customer base."

Mark Inwood
"Our sales grew at more than 50% per annum for the first 3 years and as we enter our 11th year, we are owners of two Houseproud Franchises, our sales are in excess of $850,000 per year across the two businesses. This has well and truly exceeded all my expectations and I cannot recommend more highly the business model that Houseproud Cleaning delivers."

Kuresh Khan
"By following the proven Houseproud system I was able to build my business to more than 45 regular customers within the first 6 months. After the first 3 months I was able to employ two staff and my sales figures then doubled over the following 3 months."

Habib Ataya
"The training and support from Head Office is amazing!!!!! When I started, they even took care of my schedule for the first 6 weeks which was great and I was able to focus on building my regular customer base."