---
How Houseproud cleaning works
Request a Quote
Submit your information to get an estimate.
Confirmation
You will receive a call from our friendly team to arrange your clean.
Relax
Our team will do all the hard work while you put your feet up.
Why you should choose Houseproud Cleaning for your home or business:
Great rates for regular and one-off cleaning services

100% satisfaction guaranteed with every clean.

High quality cleaning equipment to deliver excellent results.

Eco-friendly products that are safe for you and your family.

Over 22 years of home and commercial cleaning experience to leverage.

Highly skilled & knowledgeable cleaning professionals that have your best interest at heart

Reliable service means we show up for your clean when we say we will.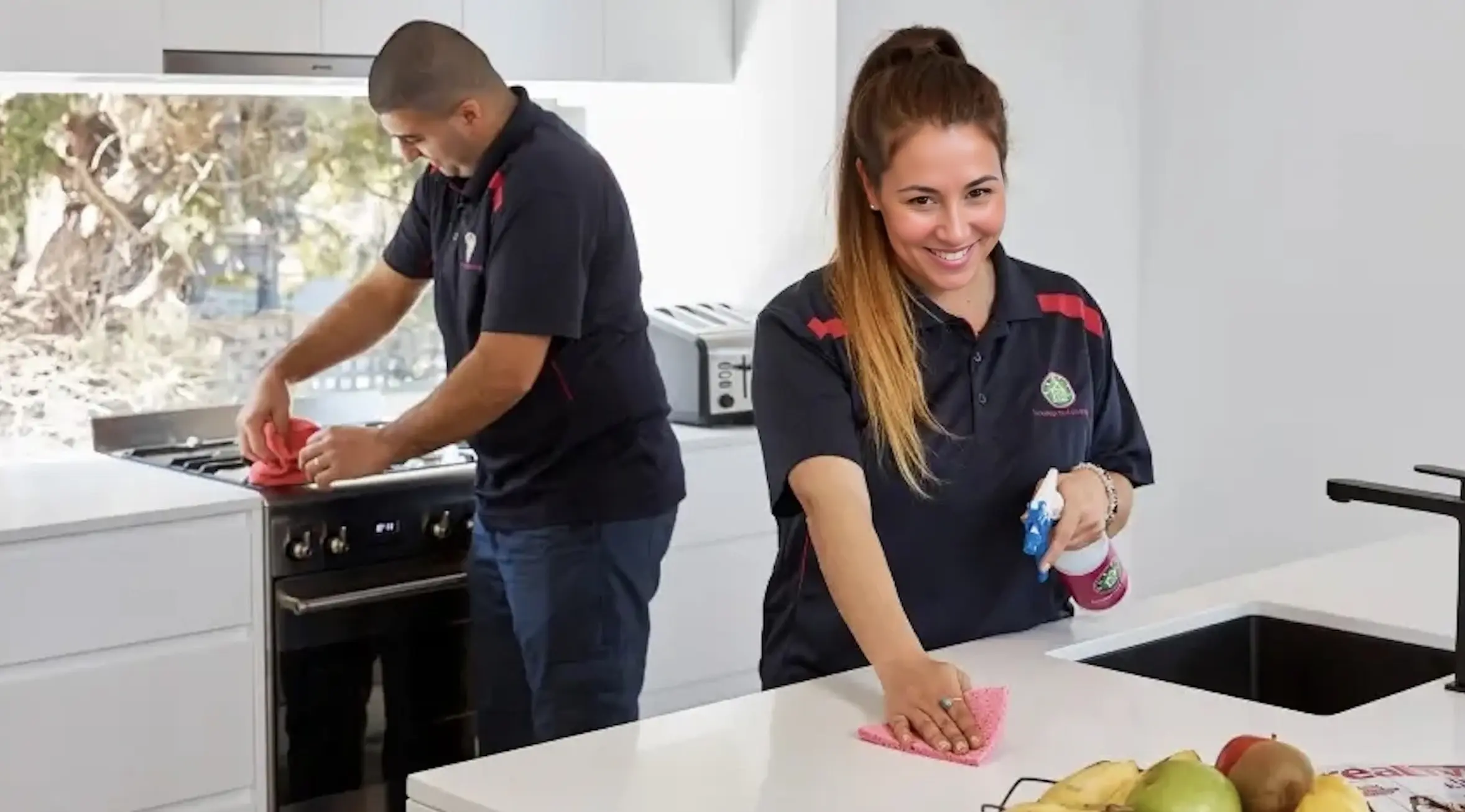 Frequently Asked Questions
Yes, the franchise owner will be your cleaner or the cleaner that works for them. The franchise owner will endeavour to keep the same cleaner for every visit.
Yes, we try to keep the same day and time for each visit.
Yes, 98% of our cleaners are vaccinated.
No, you don't need to be at home for the clean, it is up to you. You can let them in and then leave to go to work or out. You can leave a key, you can have a lockbox, you can leave a key under a mat and then they will pop the key inside.
We always attempt to use low ph or neutral ph chemicals. We still carry chloroclean, domestos or bleach for cleaning the toilets.
Your Houseproud cleaner will always be in uniform.
Your Houseproud cleaner will bring all equipment and products to each clean.
Yes all our franchisees carry workers comp or public liability.
Yes all our franchisees have current police checks.
Yes, all our franchisees have current Working with Children.
Discover the Houseproud Difference
Trust and reliability is what differentiates our service from the rest.
When it comes to your home or office cleaning services, you want to work with a company who cares about the details. Our house cleaning customers come back to us again and again because we go above and beyond with every clean.
Our franchise owners are qualified and skilled home cleaners, professionally trained through a dedicated course held at our Head Office in Sydney.
Reputation is everything to our company. That's why our cleaners are meticulously vetted for their work ethic, attention to detail, trustworthiness, and friendly caring nature.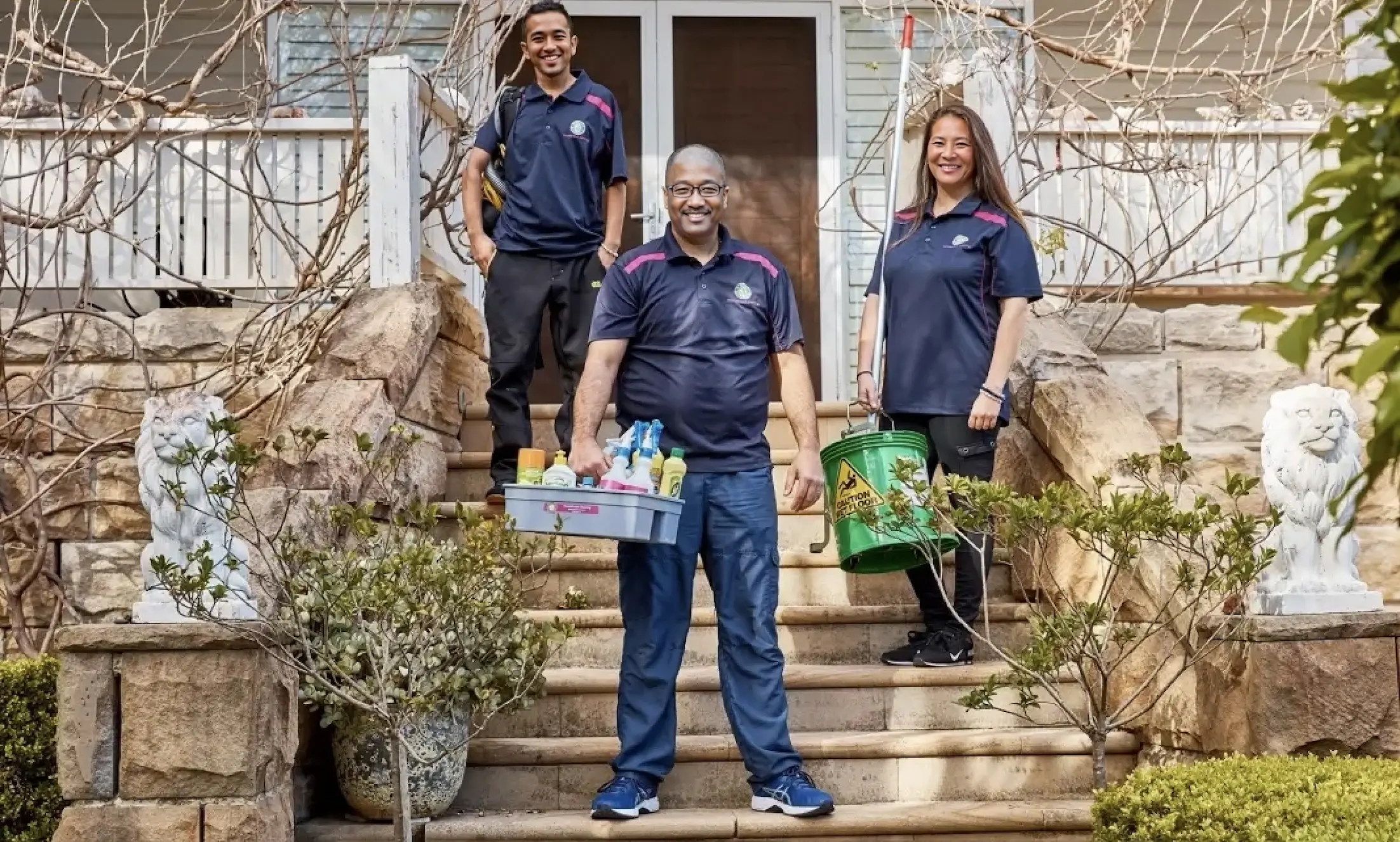 How It Works

Nicola, Sydney
"We've just started having our place cleaned regularly and I don't know what took us so long! Satyak at HouseProud Rhodes is a professional and friendly, and leaves the house sparkling! Would thoroughly recommend to anyone."

Marianne M, Sydney
"I have had many cleaners over the years, but I want to tell you the professionalism, the second to none top quality work they carried out and exceeded our expectations of cleaning inside the cupboards, range hoods, refrigerators and the oven."

Jeff G, Sydney
"Organised Sena to do an end of lease clean and I could not be happier, after 5 years of occupation the house needed a good once over. Sena and her team did a great job. Nothing was too much of a problem for them and every contact was pleasant and efficient."

Nicola, Sydney
"We've just started having our place cleaned regularly and I don't know what took us so long! Satyak at HouseProud Rhodes is a professional and friendly, and leaves the house sparkling! Would thoroughly recommend to anyone."

Marianne M, Sydney
"I have had many cleaners over the years, but I want to tell you the professionalism, the second to none top quality work they carried out and exceeded our expectations of cleaning inside the cupboards, range hoods, refrigerators and the oven."

Jeff G, Sydney
"Organised Sena to do an end of lease clean and I could not be happier, after 5 years of occupation the house needed a good once over. Sena and her team did a great job. Nothing was too much of a problem for them and every contact was pleasant and efficient."

Nicola, Sydney
"We've just started having our place cleaned regularly and I don't know what took us so long! Satyak at HouseProud Rhodes is a professional and friendly, and leaves the house sparkling! Would thoroughly recommend to anyone."

Marianne M, Sydney
"I have had many cleaners over the years, but I want to tell you the professionalism, the second to none top quality work they carried out and exceeded our expectations of cleaning inside the cupboards, range hoods, refrigerators and the oven."

Jeff G, Sydney
"Organised Sena to do an end of lease clean and I could not be happier, after 5 years of occupation the house needed a good once over. Sena and her team did a great job. Nothing was too much of a problem for them and every contact was pleasant and efficient."